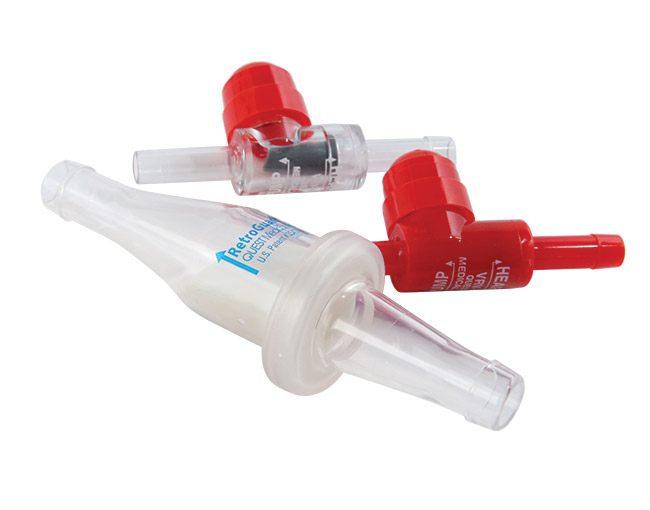 Safe & Confident Under Pressure
When it comes to important perfusion equipment inside the perfusion circuit, Quest Medical safety valves can perform a critical role for perfusion safety. Quest safety valves offer optimum prevention of retrograde flow, negative pressure, and related hazards.
With safety and quality as a top priority, Quest develops and manufactures all Safety Valves in the USA. Each type of valve is available as sterile and/or non-sterile direct from Quest Medical, Inc. and from procedure kit suppliers.
Confident One-way Flow Control
The Quest RetroGuard automatically prevents retrograde flow in the arterial line when a centrifugal pump is used. Large duckbill valve minimizes resistance to flow
Materials:
Silicone duckbill valve
Acrylonitrile Butadiene Styrene (ABS) housing
Not made with latex
Available sterile (REF 4007100) and non-sterile (REF 4007200) from Quest Medical, Inc. and all procedure kit suppliers.


Protect the Flow from possible air embolisms
Quest Medical safety valves assist perfusionists with managing flow and pressures through preventing retrograde flow, relieving vacuum pressure, and venting excessive positive pressure.
Key Features:
Optimum management of vent pressures and vacuum relief
Positive pressure relief
Reverse flow protection
Barbed fittings:  1/4 in. (6.35 mm)
Materials:
Housing – VRV line: Polycarbonate, RLV line: ABS
Silicone duckbill valve
Silicone Pressure relief band
Not made with latex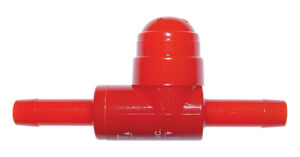 Average relief pressure: Negative:  -150 mmHg / Positive:  340 mmHg
Average relief pressure: Negative:  -150 mmHg / Positive:  340 mmHg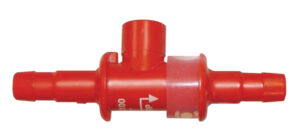 Average relief pressure: Negative:  -200 mmHg @ 2.0 LPM / Positive:  <1300 mmHg